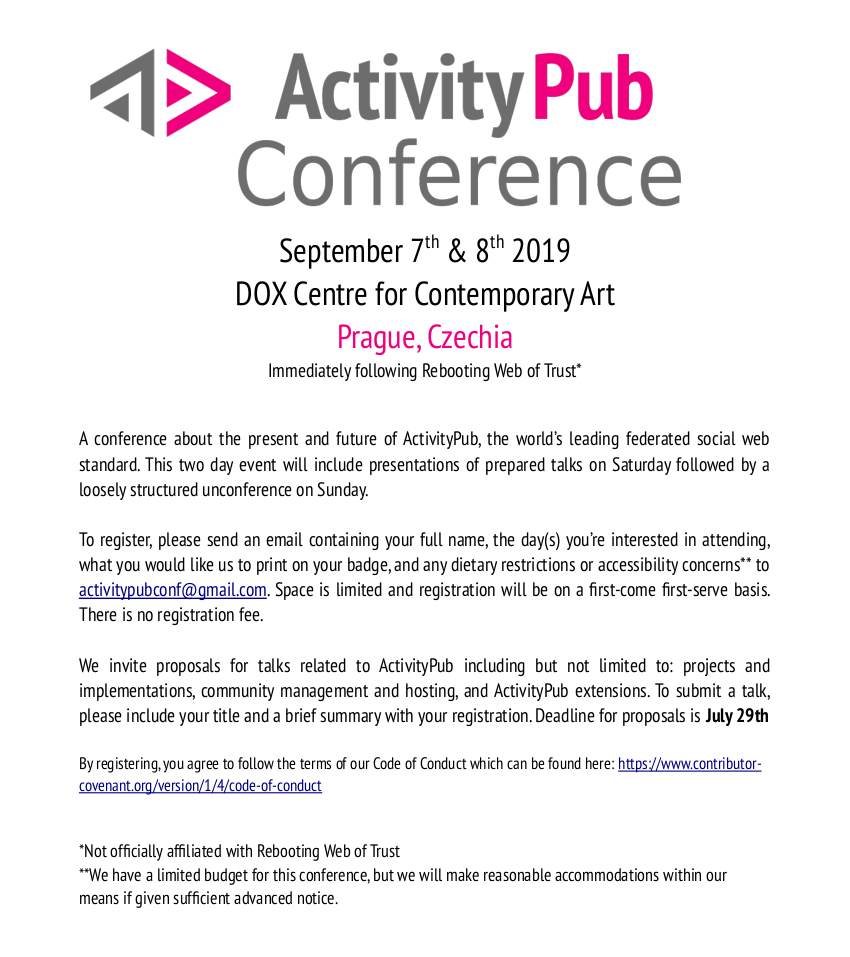 {.align-center}
UPDATE: As of August 5th, registrations have now filled up! See all of you who registered at ActivityPub Conf!
That's right! We're hosting the first ever ActivityPub Conf. It's immediately following Rebooting Web of Trust in Prague.
There's no admission fee to attend. (Relatedly, the conference is kind of being done on the cheap, because it is being funded by organizers who are themselves barely funded.) The venue, however, is quite cool: it's at the DOX Centre for Contemporary Art, which is itself exploring the ways the digital world is affecting our lives.
If you plan on attending (and maybe also speaking), you should get in your application soon (see the flier for details). We've never done one of these, and we have no idea what the response will be like, so this is going to be a smaller gathering (about 40 people). In some ways, it will be somewhere between a conference and a gathering of people-who-are-interested-in-activitypub.
As said in the flier, by attending, you are agreeing to the code of conduct, so be sure to read that.
The plan is that the first day will be talks (see the flier above for details on how to apply as a speaker) and the second day will be an unconference, with people splitting off into groups to work through problems of mutual interest.
Applications for general admission are first-come-first-serve. Additionally, we have reserved some slots for speakers specifically; the application to get in submissions for talks is 1 week from today (July 29th). We are hoping for and encouraging a wide range of participant backgrounds.
Hope to see you in Prague!